We reserve a space for you tell your experience with Extreme Trips. Send your story and share it with other adventurers.

MONA
Egypt
I went to this Extreme Trips tour with two friends, and Marcos was our private tour guide. We all work in Sao Paulo, and this was a perfect weekend getaway at Ubatuba. Marcos picked us up and took care of the accommodation arrangements. As a tour guide, Marcos is very friendly, cooperative and attentive. The tour itself as well is very well thought out. He showed us all over Ubatuba (stunning scenery!), spent some time at the beach, went to a waterfall, and went out for a very nice dinner and later baked ice cream.
If you're visiting Sao Paulo City and would like a weekend trip by the beach, I would definitely recommend this tour!

MICHAEL
Canada
Making tourism adventure a part of your travels in Brazil is a must. I lived in Brazil for 5 months and my time with Extreme Trips was the highlight without a doubt. In two days, Ivan Veronezzi (guide) took us on a two day adventure over the sea and up the Corcovado mountain (Ubatuba). On Day 1 we sailed around the small islands along the coast and visited an abandon prison. Throughout the day we had regular sightings of Penguins, Capybaras and White-headed Marmosets. On Day 2 we completed a very challenging hike up the Corcovado peak. The wildlife in the jungle was too many to describe; the birds however were the highlight for sure. That evening, we pitched our tents, cooked dinner over a campfire and watched the sunset overlooking the green wall mountains and coastline. And if that wasn't great enough, the next morning we watched the sunrise!
During these days, Ivan provided transportation and a few meals, including a fish dinner (with bananas!). It was well worth the price. I'd probably pay double. Ivan was knowledgeable, helpful and friendly. Such a pleasure to have done this; probably the best vacation days that my wife and I have ever had. We travelled with another couple as well and have talked about it on several occasions since.
Highest recommendation for this company
MATS
Noruega
This was a great trip to Ubatuba! We saw a lot nice beaches and water falls. Marcos (our tour guide) really showed us how to spend a perfect weekend. We stayed at a super nice pousada, not fancy, but very authentic with the best breakfast ever and friendly owners. Marcos also taught me to surf! It took a while to get up on the board, but with a good teacher, anything is possible I guess. Wish I knew about Extreme Trips earlier during my stay in SP. I recommend this a lot! Ask for Marcos, he will take care of you and show you the best of what SP has to offer.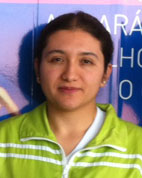 KARLA RODRIGUEZ
MEXICO CITY
Due to a business trip in Jundiai (Sao Paulo), I decided to do something different for the weekend as I already know most of the Brazilian touristic highlights. So then I found in TripAdvisor the Extreme Trips and decided to do skydiving (tandem jump) for the first time in my life. I invited two colleagues of mine, and Marcos from Extreme Trips picked us up very punctual at the lobby of our hotel. He drove us to a flight school in Boituva named National Centre Skydiving. The instructors prepared us for the tandem jump. When the moment to jump arrived I felt safe because I was among professionals. And the skydiving experience is JUST WONDERFUL, INCREDIBLE, AMAZING!!! I only wish it could last longer!!! It is something that has to be experienced at least once in a lifetime!!!
So thanks Marcos and Extreme Trips for this experience!!!
SHAWNA
EUA
I was visiting São Paulo for work for a few months and I kept hearing about Ubatuba. I didn't really want to rent a car and drive there alone because I didn't know what to do or see. Luckily a friend heard about Extreme Trips and we booked a weekend to Ubatuba with Marcos. The trip started with Marcos picking us up at our apartments and driving us through São Paulo state (no stress for us!). He even stopped at an awesome rest stop for us to get coffee and breakfast on the way. Upon arriving, we checked into a bed and breakfast type place that was very authentic to Brazil. The family who owned the property lived there and there were a few other surfers staying there as well. We all ate breakfast together and learned about each other and I got to practice my Portuguese. During the day, Marcos took us to see some of the most famous beaches and hidden treasures of the island including a waterfall, a quaint bar overlooking an untouched beach and The North Shore – a food stand in Itamambuca that had the BEST Açai I have ever had. We went there every day! Marcos entertained us the entire weekend, joining us for dinner, giving us time to nap/rest and even taught one of us how to surf. Marcos is an awesome guy who knows a lot about Ubatuba and São Paulo State. By the end of this trip, I felt like we were friends. I would definitely recommend customizing your own tour ASAP.

BEN
CALIFORNIA
I was in Sao Paulo for work over a weekend and a colleague recommended Extreme Trips. I wanted to visit the beaches near Sao Paulo and go surfing. Via email I contacted Marcos and he proposed an itenerary. He promptly arrived the next morning at 6am and we drove off in his car to the beaches 3 hours away. Marcos was very friendly and knowledgable about the area. The beaches were fantastic and Marcos even surfed with me. The beaches around Camburi are beautiful and worth a visit with Extreme Trips. Felt safe and secure the whole time and the overall experience was awesome. Will use Extreme Trips again!
BRIAN
CALIFORNIA
After an week powering around Brazil conducting meetings, met Marcos at airport Friday night in Sao Paulo and heading to the coast for an amazing two day recovery in Camburi. He guided us to a great pousada, to many beaches, cool restaurants, and a weekend of fun surf and relaxation. He's a great person, a sensitive guide and rock solid surfer! I look forward to future trips and further sessions scoring warm overhead Brazilian waves with my friend Marcos. I am happy to provide my highest recommendation for Extreme Trips.